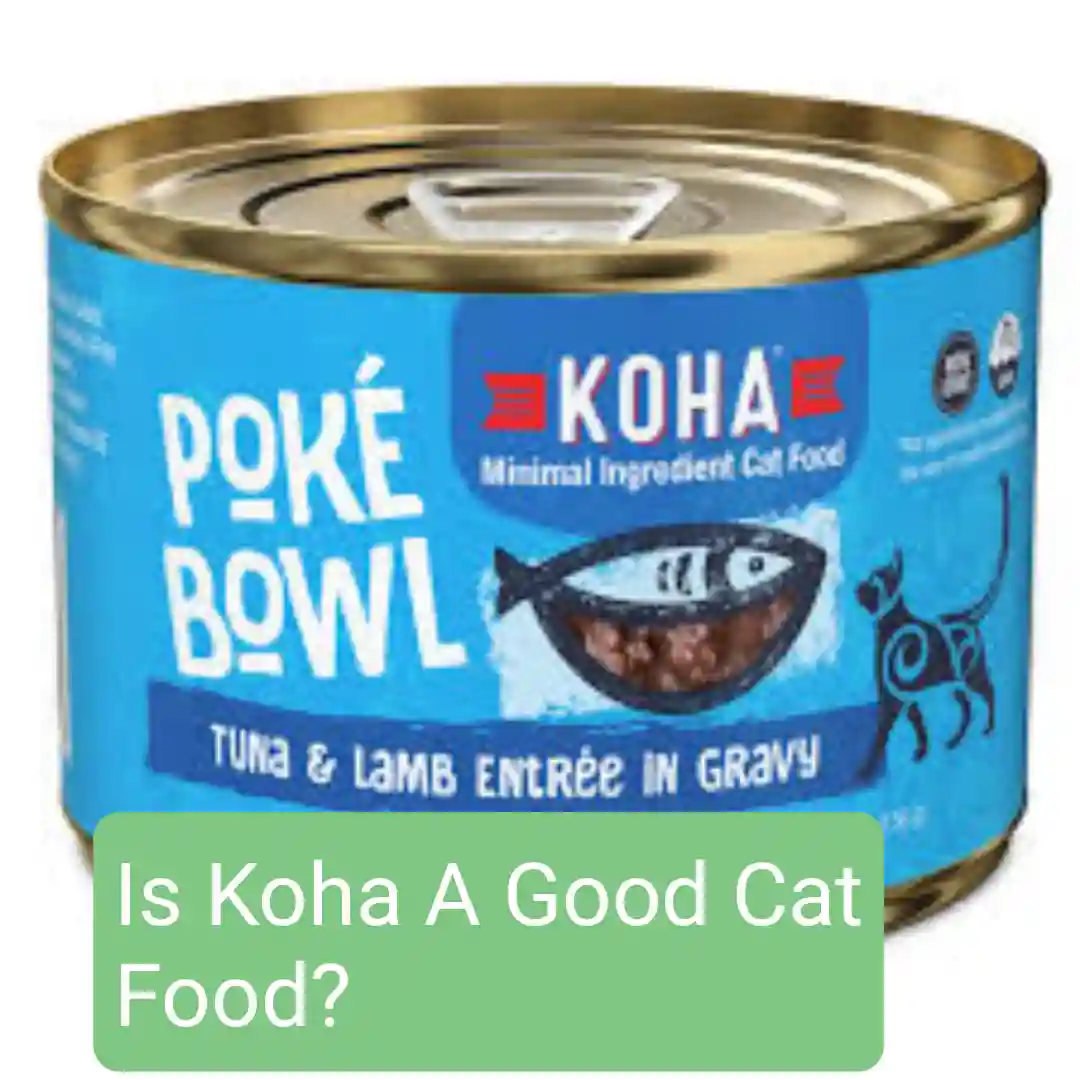 As a cat lover, one of the baffling decisions you'll have to deal with throughout your cats' lifetime is the kind of food that's best for them. All cat owners always arrive at this crossroads at some point: even experienced cat parents don't always have the perfect answer
When shopping for wet cat food, brands like Koha may grab your attention faster than many others mostly due to growing popularity.
But, Is Koha a good cat food? Koha cat food has put a lot of work towards developing some of the best protein-rich cat food on the market. It came into the limelight with its wide range of wet limited ingredient cat food, which won the heart of many cat owners.
You may not be the only one asking questions about the values of the brand because many cat owners on forums pose similar questions.
In this article, I will share my experience with you and what I think about the brand. I'll show you what the brand is doing right, and what I think it could improve on.
In the end, you should have enough information to help you decide if Koha cat food works for your cat or not.
With that said, let's jump right in.
Read: Mittens Pickens Cat Food Review
Table of Contents
What Koha Cat Food Is Doing Right?
In the first place, the protein content of Koha sets it ahead of other cat food brands. You'll find much more protein content in Koha cat food than most brands.
By percentage, protein makes up about 70% – 96% by weight of the total mass of Koha's content. With that volume of meat, you can rest assured that Koha offers your cat one of the highest intakes of protein they can get, and it's one hundred percent animal-based.
Besides the protein-rich content, Koha throws in other cats' essentials like broth, vitamins, minerals, and moisture content. And, given the high volume of animal-based protein, your cats receive enough supply of Taurine by consuming any of Koha cat products: the more reason I prefer the brand.
Koha also does a great job of upholding the wet-food line as several indoor cats don't take enough water throughout the day, leading to dehydration.
The presence of wet food in your cat's diet helps balance the volume of fluid intake, and it also helps digestion. Koha has made it a point to introduce several flavors of wet cat food into the market, helping to combat dehydration in cats, a move I'll gladly give them credit for.
I also find the one-meat recipe innovative. It makes it easy for you to track your cat's favorites. I noticed that with these recipes, you can easily discover the meal your cat becomes enthusiastic about and the ones they nibble at.
Consequently, you'll easily treat your cats to their favorite meals on days they suddenly become picky. This trick works perfectly well, thanks to a more streamlined recipe.
What Koha Cat Food Is Doing Wrong?
While there are several advantages to using the Koha brands, I have also identified certain places where enhancements may be made.
First, I believe that focusing solely on wet food for cats leaves a void in the niche market for products with fewer ingredients. Although the company is seeking to sell more wet cat food, its marketing strategy ignores the needs of time-pressed pet owners.
You'll need to be home whenever your cats eat, or else you'll come home to a house that smells like cat chow.
When switching from one flavor of Koha to another, some cat owners worry their feline friends will develop a preference. It might not appear to be a major issue, but it should be taken into account nonetheless.
Since both flavors of this cat food are made by the same company, switching between them shouldn't be too much of a hassle. I'll recommend that the company put money into research and development to find ways to lessen the pushback from feline consumers when trying to introduce new flavors to their feline friends' diets.
Popular Koha Cat Food And Their Ingredients
Koha brand features several cat foods in its line, each with a unique recipe. All products are limited ingredients, meaning that your cat gets one meat per recipe. The aim is to give your cat the essentials rather than loading the meal with irrelevant fillers.
Given the feedback from cat owners and personal experiences with the brand, I'll agree that it works perfectly if you follow a consistent feeding routine. Below is a quick summary of what's contained some of the most popular Koha cat food products.
Limited Ingredient Diet Paté
Limited Ingredient Diet Paté is a collection of different meat-based, flavored cat food. They are usually canned and feature a single meat per recipe. Each can contains one diet of moisture-rich meals for your pet, which is perfect for dehydrating cats.
Ingredient
90% – 96% meat (rabbit, chicken, turkey, duck, rabbit).
Pumpkin
Turmeric
Cranberries
New Zealand Green Mussel
Novel Protein options.
Limited Ingredient Diet Shredded
Limited Ingredient Diet Shredded is a much cheaper cat food, compared to other products by Koha. They are mostly one meat per recipe as well and come in several flavors. It contains zero sea-product and is non-GMO
Ingredient
Shredded meat (One meat per recipe)
Moisture content
Pumpkin
Poké Bowls
If you are looking for a fish-based meal that your cat may love, Poke Bowls may be the accurate choice. It features red meat shredded tuna with a protein combination. Unlike Kohl's usual single-meat recipe, the Poke Bowls feature one meat combined with wild tuna fish, which your pets would mostly like.
Ingredient
Tuna
Single meat
Moisture content (fluid)
Pure Shreds for Cats
Pure shreds for cats is another wet food flavor made from animal-based proteins, which include meats and fish. Like most wet cat food, pure shreds is free from fillers and is made almost entirely of meat or fish, especially tuna. It's the reason for the name Pure Shreds.
Ingredient of Pure Shreds for Cats
Meat or fish
Vitamins and minerals
Broth
Moisture content
Pros Of Koha Cat Food
Wet food
One meat per recipe
Limited ingredient
High-quality recipe
Cons Of Koha Cat Food
Could be tricky to switch between different flavors
Risk of spilled fluid from cat food
Prices could be above average
Cost of Koha Cat Food
With the average price of cat food going for $5 – $10, I've found Koha to be slightly above average and when you add up the cost over time, it could quickly become sizable.
An average pack of Koha cat food sells for $15 – $40. Some are a few cents less than the $15 mark, and others go as high as $50. An example is the Pure Shreds Shredded Chicken Breast and Salmon Entrée for cats, which sells for $54.96
Is Koha A Good Cat Food?
Koha has distinguished itself as a brand that prioritizes feline health and well-being and it has crafted all its cat food products with cats in mind.
Besides the high-end prices of the Koha brand, which is quite worth it, I've found Koha to be one of the best cat foods I've invested in. I've used it for quite a while now and I've seen significant improvement in the level of hydration and overall health of my cats.
Can Koha Hurt Your Cat's Health?
Koha cat food does not leave side effects on your cat. As stated earlier, the recipes used in their products are the handwork of PHDs in animal nutrition. From my findings, their ingredients are sourced from some of the top-tier manufacturers in the world.
This finding gave me the confidence to opt for the product in the first place. From my personal experience, the product did nothing harmful to my cat. Other cat owners also reported that it helped their cats overcome fussy feeding and dehydration.
Final Thoughts
You may have an uphill experience getting your cat to accept the new flavor even though they come from the same brand. However, there is a simple hack that cat owners can apply to get the new flavor worked in. For the first two days, you can make the composition of your cat food 25% of the new flavor and 75% of their favorite.
Selecting the best cat food brand for your pet could quickly become stressful. For one, the rising number of cat food brands on the market is incredible. In summary, one can say that Koha is doing a great job with the protein content and quality of the food. The only downside of the brand is transitioning from one flavor to another.