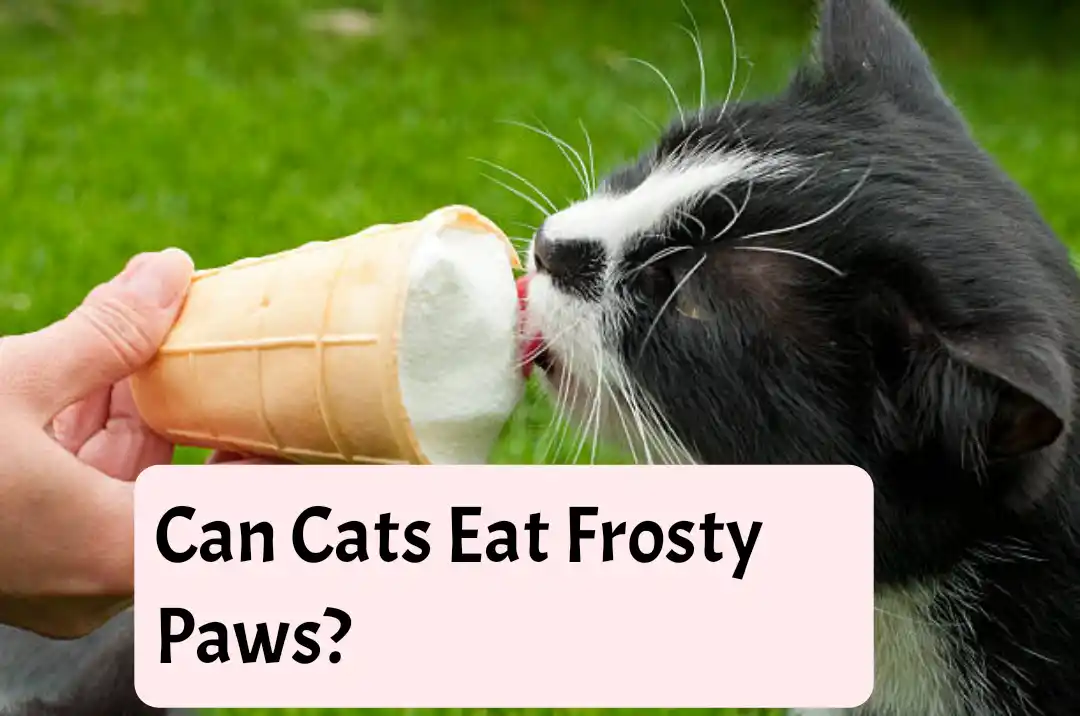 On sunny days, after a vibrant training section, or to encourage good behavior, you may instinctively want to give your cats something cold to calm their nerves or reinforce behavior. So can cats eat frosty paws? Are frosty paws safe for cats?
Can cats eat frosty paws? Yes, cats can eat frosty paws because it is packed with minerals and vitamins, with no flavorings or sugar in them. The manufacturers of frosty paws didn't include the Dangerous ingredients in regular human ice cream. However, frosty paw makers prioritized the dog's digestive system. Hence, the ingredients used in making it may not be suitable for your cat's digestive system.
So many cat owners have given their frosty kitty paws; this has been done out of ignorance because the same makers of frosty paws ensured to make a particular product for cats called cool claws.
We have painstakingly compounded every single detail concerning frosty paws For Cats. by the end of this article will be able to understand why the ingredients in frosty paws may not be suitable for your cat and better alternatives.
Table of Contents
What are frosty paws?
Frosty paws was created by Dr. William Tyznik, a professor emeritus of animal science at Ohio University. The desire to create ice cream for animals began when he saw two older women feeding their dogs ice cream made for humans— this challenged him to create ice cream for animals.
Popularly referred to as ice cream for dogs, the frosty paw is a frozen treat for pets. Frosty paws changed hands a few times; the most notable is when nestle acquired them in 1991; they released a peanut butter flavor of these frozen treats in 2005.
Based on the research carried out by nestle pet care division Purina, in 2011, nestle released a dog-formulated ice cream called the frosty paws bites. This frozen treat was made explicitly for lactose intolerant dogs who cannot properly digest dairy products or ice cream.
What are Frosty paws made of?
If you're fixing to get Frosty paws for cats, there are currently two flavors of these frozen treats; peanut butter and the original flavor. They were both made with high-quality protein and equipped with minerals and vitamins. The best part is that there are no added colors or flavors.
The Frosty Paws Original is made with the following ingredients: soy flour, coconut oil, water, potassium, ferrous fumarate., salt, riboflavin, pyridoxine hydrochloride, thiamin monohydrate, dicalcium phosphate, ascorbic acid, microcrystalline cellulose, maltodextrin, whey, and sorbitol.
The peanut butter flavor has the same ingredients; the only difference is the addition of peanut butter syrup.
They are found in stores in a pack of four, giving you four servings. Each serving contains 68% moisture, 5.5% crude fiber, 6% crude protein, and 6.5% crude fat. To serve frosty paws for cats, you don't need to do any extra thing; open the cup and empty its content into a bowl and let the enjoyment begin!
Can cats eat frosty paws?
Yes, cats can eat frosty paws, but you should know that frosty paws were explicitly made for dogs; the manufacturers prioritized the dog's digestive system and nutrition requirements. However, the manufacturers made a frosty paw for cats alternative, known as cool claws.
The knowledge that frosty paws are curated for canines doesn't mean your cat can't have some. Most cat owners substitute cool claws for frosty paws—in cases where supply depletes in stores around them.
However, cats have more delicate digestive systems when compared to dogs. There is a high chance your cat would develop an upset stomach after enjoying a frozen paw treat on a warm summer day.
What's in Frosty Paws That Could Be Harmful to Cats?
Frosty paws for cats may feel like a fun experience for your cat, especially if they are outdoor cats. When you let them out in the hot scorching summer sun, they are likely to return in a few minutes; serving them frozen treats at this point feels highly satisfying, but you should be aware of the following ingredients and their effects on cats' health.
Salt
Although the salt used is very low, it is less likely to harm your cat in small quantities when salt is eaten in large amounts by cats. However, dogs also have issues with salt, so this product is designed to have very low salts. But it is advised that you proceed with caution. Cats who are diagnosed with sodium-related illnesses should not have frosty paws.
Natural Flavors
The natural flavor is listed amongst the ingredients used in making frosty paws. Natural flavor can be anything, but I could only assume it includes things that are safe for dogs, but I can't determine if it's safe for cats since it wasn't listed out. So, I can't assure you this is safe for your cat.
Monoglycerides
Most of the research presented online for monoglycerides is about dogs, so there aren't enough studies to prove this ingredient is safe for cats. In dogs, this ingredient should be used sparingly and even more sparingly for cats.
Sorbitol
This sweetener is safe for cats, unlike xylitol, but only a little concentration is safe. Generally, this ingredient is safe, but you should feed your cat more foods that don't contain this ingredient.
Corn oil
Corn oil is safe to an extent, but it'll trigger a reaction from a cat allergic to corn. If your cat suffers from cat allergies, you shouldn't give it frosty paws.
Are frosty paws safe for cats?
Yes, frosty paws for cats are safe. Both dogs and cats have lactose intolerance; the company that manufactured frosty paws(nestle) considered this. Hence, the use of whey; a by-product of milk.
Also, you should be aware of the high artificially preserved animal fat content, cats may love this, but I am averse to using generic protein and animal fats in any edible cat product.
The first and only time my cat had some frosty paws was at my friend's cat's birthday. I will consider that a lavish party since they shared some frosty paws for cats and dogs. I was expecting my cat to start one of his picky antics, but he disappointed me and went all in.
If the listed ingredients are the only things used in this product, I'll rate it 70% safe for felines. If you're uncertain about what to do or if you should buy frosty paws for cats, get in touch with your vet and discuss the issue extensively.
What's the Difference Between Cat Ice Cream and Regular Ice Cream?
Cats are not known to want to share things with people or other pets or share in anything people eat. When their odd taste in foodstuff kicks in, they seem to love human foods. However, cats have different nutritional needs than humans.
Most foods we eat can be toxic to our cats, such as chocolate, dairy, or grapes. For this reason, cats' ice cream is made differently from people's ice cream, and the nutritional needs of cats are prioritized.
The ice cream made for people can be terrible for cats because it has dairy as its constituents, which is a tough nut to crack for a cat's digestive system. Your cat may experience bloating, vomiting, severe gas, and diarrhea. It's no secret that sugar is bad for cats and creates heart-related problems, and causes weight gain; finally, xylitol content makes people's ice cream a deadly treat for cats.
If your cat consumes chocolate, it could become I'll. Chocolate toxicity can lead to upset stomach, vomiting, diarrhea, increased heart rate, cardiac arrhythmias, muscle tremors, And other severe symptoms such as heart failure.
Letting your cat have some ice cream is a terrible idea, as what's in the constituents is awful for cats; in the worst-case scenario —you could cost your cat a happy life. Cat claws or cat ice cream won't contain ingredients in people's ice cream. Instead, it has ingredients safe for cats—fulfilling their nutritional needs simultaneously. It enables your cat to taste a cool refreshing treat on sunny days.
Cat claws look like ice cream; you can pop a cup for your cat while simultaneously enjoying your ice cream—your cat will think you both are having the same thing.
Pros of frosty paws for cats
It contains some gay-friendly nutrients.
High-quality protein.
Two flavors to choose from.
No sugar or artificial flavor or colors.
It doesn't have dairy.
Cons of frosty paws for cats
Expensive
Not made for cats
It contains a few unfriendly cat ingredients
When Can Cats Have Frosty Paws?
You can give your cats frosty paws from 18 months old, precisely the period at which you'll be transitioning it to adult cat food. As a rule of thumb, kittens should be weaned from their mom's milk before they eat any cat treats or food.
If your cat is old enough, it can eat frost paws whenever you decide they need a treat. Be a responsible cat parent and ensure you aren't giving too many treats. Some cats are prone to easy weight gain, and being overweight could lead to health problems.
If your kitty is beginning to enjoy frosty paws or cool cats more than anything, it will help if you feed these pet ice cream in moderation. It is a treat and should be used as one—occasionally!
How Often Can You Give Your Cat Frosty Paws?
Frosty paws for cats should be given once a day. Although it contains nutrients that are pet friendly, it would help if you understood it was made specifically for dogs; it is safe for cats in moderation.
It would help if you didn't dish out feisty paws to cats instead of their regular nutrient-packed foods. Please give it to your cat as you will any other cat treat. Your kitty should look forward to this treat; make it special!
Does Frosty Paw give any nutritional benefit to benefits?
Yes, even though it wasn't made for cats, it contains a few ingredients that are beneficial to cats, such as water, coconut oil, riboflavin, protein, and iron. Every cat food caters to cats' taurine needs, but frosty paws don't.
Can cats eat frosty paws ice cream
Yes, your cat can eat some frosty paw ice cream. However, the ingredients in frosty paws can cause upset stomachs in cats. If you're going to give your cat some of this frozen treat, do it in moderation.
3 Easy Recipes for Homemade Frozen Treats Your Cat Will Love
You want to give your cat a special treat but don't want to bust out the oven or the stove. What do you do? You make some frozen treats, of course!
There are many recipes for homemade frozen treats for cats online, but we've narrowed it down to three easy recipes that your cat is sure to love.
The first recipe is for tuna popsicles. All you need is a can of tuna, some water, and an ice cube tray. Mix the tuna with water, pour it into the ice cube tray, and pop it into the freezer.
The following recipe is for salmon popsicles. Again, all you need is a can of salmon, some water, and an ice cube tray. Mix the salmon with water, pour it into the ice cube tray, and freeze it.
The third recipe is for chicken popsicles. This one is a little more complicated, but it's worth it! You'll need chicken, carrots, Greek yogurt, flour, and broth. First, chop up the cooked chicken and carrots into small pieces. Then mix the chicken, carrots, yogurt, flour, and broth in a bowl. Pour the mixture into an ice cube tray, freeze it, and voila! Chicken popsicles for your kitty
Other treats for cats
Can cats have frosty paws – Final Thoughts
technically, your cat can have frosty paws, but if it becomes a regular treat, it will likely cause stomach upset for your cat. A better thing to do is to give your cat a frozen pleasure that was manufactured sticky for it—cool claws, or you can avoid giving it any since frosty paws are likely to be made and preserved with ingredients not mentioned.
If you're unsure about anything and need clarification, please get in touch with us.